An evangelistic missionary home church ministry among the poor day laborers in India making disciples for Christ in rural Hindu coastal Muramulla village areas, and raising up and caring for orphans multiple orphans found in need.
We came to know Mani as a man who had a deep passion for souls among his fellow Hindu villagers. He won over a small group of new Believers and began to disciple them to Christ and formed a home church. AFM began assisting him with a small salary to free his time for Gospel work so he no longer had to work the fields to feed his family. He accepted this gift well and began growing his Church Ministry through much more local evangelism and outreach. His loving heart and passion for Christ brought in hundreds into regular discipleship.
God led him to take in about a dozen orphans into a new rental home which he uses for his rural village ministry base. We call this our AFM India Orphan Home and Church because we are the sole source of funds for this growing new ministry which has now spread into 3 villages and about 300 regular Church members. We ask for your prayers and help for us to continue funding this work. By God's grace we have been thus far able to meet the $300 a month needed to care for them, with some general fund giving by AFM donors. Pray about partnering with Mani to help these Indian orphan children for $20 to $30 a month to help us provide better for this family, their orphans and the local poor people of his Church. This is a beautiful work of Christ doing so much good in a area otherwise without Christian witness! They do so much with little. Come meet AFM Pastor Manikumar and love him with us! His English is very poor but his heart is very pure in the Lord!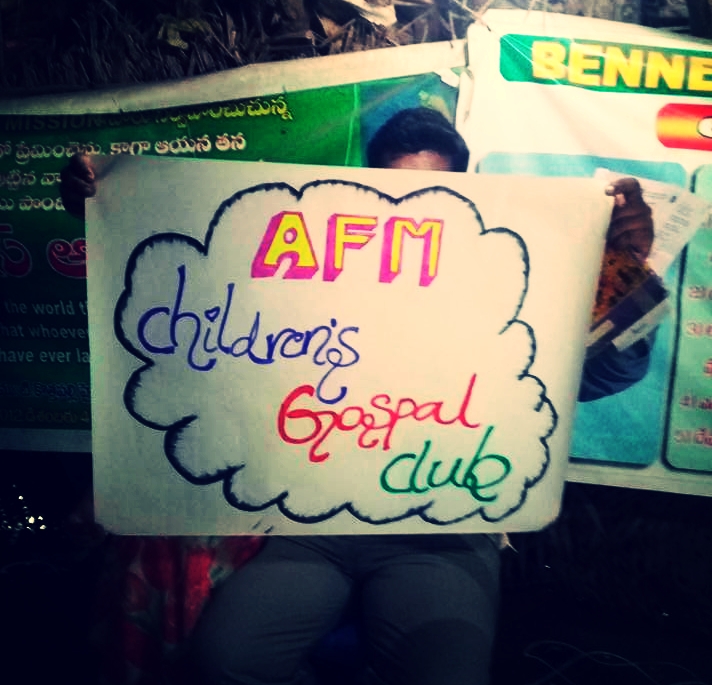 Children's Gospel Club, teaching little ones in India about Jesus
Some of the prayer needs for this ministry:
They desire a permanent Church home property and facility. Land is very expensive so to buy a small 1/4 acre tract of land in this area would alone cost about $15k. Then to construct a concrete Church and orphan Home would cost another $25k at minimum, making the cost at about $40k. AFM needs a bit of a miracle to do this. But we know God works miracles all the time, just like our miraculous AFM Nepal Orphan home, and now our even greater miracle of the AFM Mercy Children's Home in Kenya! Pray with us God opens the door for us to do likewise for brother Mani in India!

ManiKumar found out in mid 2018 that they had to move out of their rental home in the village where his family and the orphans have lived for the past several years. There not being any available homes to rent at affordable prices, he needed to be creative to be able to keep caring for all the orphans in his care. Some Church member donated a small plot of land large enough to build a home. He was able to use that as security to fund a $5000 bank loan showing the bank his consistent AFM monthly support over the past years. So he was able to build a simple cinder block and sheet metal roof home for his family and the orphans to move into. It's a little crowded, but it does the job and give them a place to live. Yet that loan it taking up more than his prior rent that is due to pay off in 3 years. Mani could use some more help to pay down or off is $5K loan.

Transportation. To date they are totally on foot or have to rent Tuk tuk rides. No form of private vehicle at all. We have looked into buying a small cheap Vehicle that can carry several of them around. This can be done for only about $6 to $8 thousand. Pray with us that God may open that door of blessing to his brother and his ministry. It will greatly enhance their ability to serve more people and help the needy.

Bibles. They always need more Bibles. We can buy their local language Bibles for only about 5 or 6 dollars. Would you consider donating to help us buy them some Bibles?

More ministry partners. We will soon post all the children, their names and age and grades, but we really want all these beautiful kids to have more people praying and supporting their very simple needs.